Map of Clementi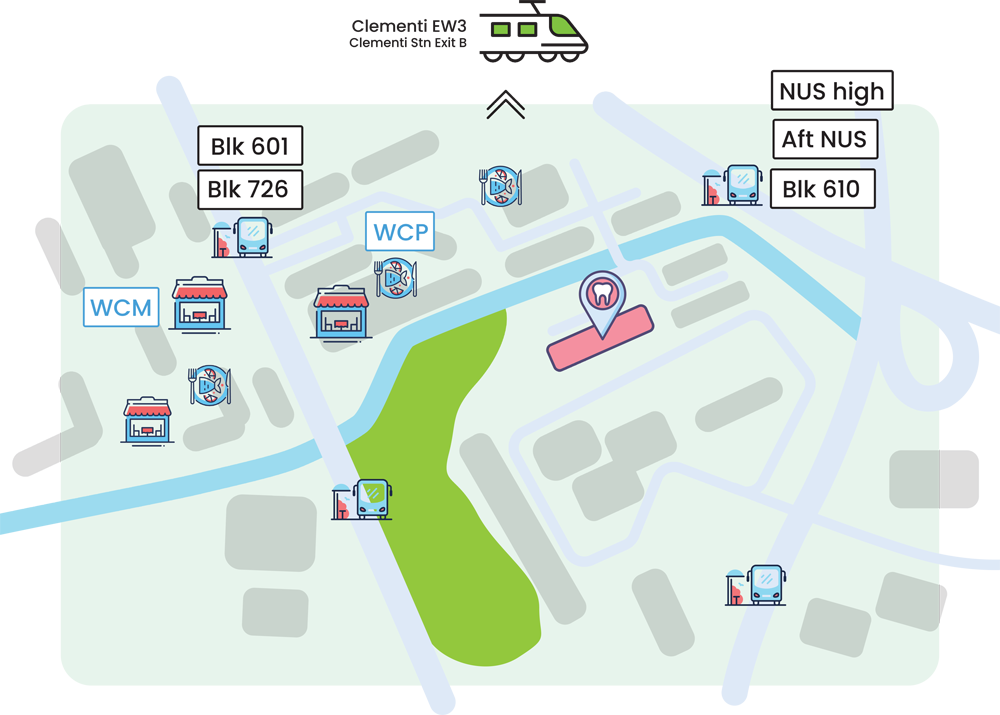 Clementi has both an MRT station as well as a bus interchange.
There are many of amenities around the Clementi area, namely the Clementi Stadium, West Coast Recreational Centre, West Coast Park and Clementi Woods Park.
The Clementi Stadium has a football field as well as a running track. At the West Coast Recreational Centre, you can find squash courts and bowling facilities(West Bowl). There are also many fitness corners and children playgrounds found around the West Coast and Clementi areas, typically situated around living estates such as HDBs.
Transport
Here are some of the buses that you can take to alight at these bus stops to get to Ginza Dental Surgery.
If travelling by train, alight at these stations and transfer to these buses to reach Ginza Dental Surgery.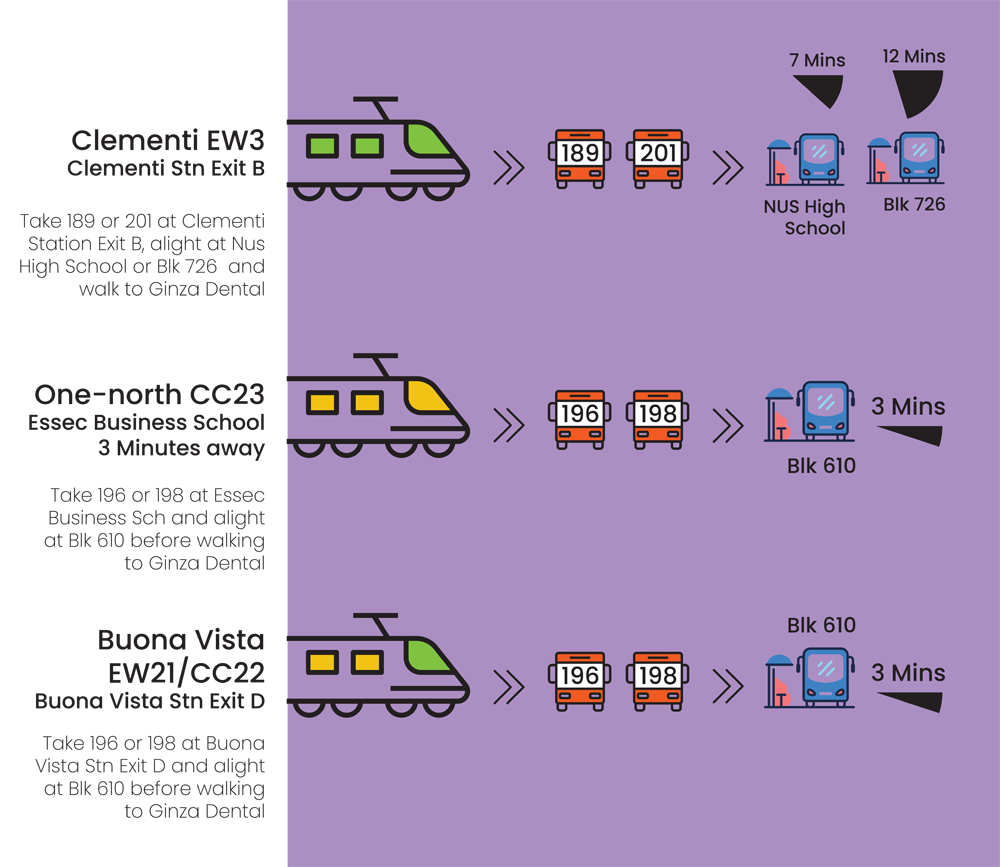 You can easily travel from the town area to visit Ginza Dental Surgery! Here are some routes you can take:
City Hall Mrt
City Hall Stn Exit B
From City Hall: 197 (City Hall Stn B) to Blk 610. Walk 3 minutes to Ginza Dental Surgery.
Orchard Mrt
Orchard Boulevard
From Orchard: Take 106/111 (Orchard Boulevard) to Opp Blk 43, and take 196/198 to Blk 610. Walk 3 minutes to Ginza Dental Surgery.
From Somerset: Take 106/111 (Somerset Stn) to Opp Blk 43, and take 196/198 to Blk 610. Walk 3 minutes to Ginza Dental Surgery.
Amenities Near Us
In the event that you might need to kill some time while waiting, or looking for something nearby, here are some places you can consider.

Services
House of Traditional Javanese Massage
Jas-Indulge Body Massage
Nail Spa & Café
Le YanMiel Beaute
Food
Jalan Kayu Prata Cafe
Sushi Tei
Starbucks
Wicked Greens
Toast Box
Sunny Korean
Xin Wang Hong Kong Cafe
Upin Hotpot
Thonglor Thai Cuisine
Wine Connection
Long John Silver
LIHO Tea
DishTheFish
Mon'n'Don
Oishii Bakery
Subway
West Co'z Cafe
Shopping
Puma
New Balance
Refash
Cold Storage
Sakuraya Fish Mart
Watsons
Pet Lovers Centre
The Spectacle Shop
Challenger
Comics Realm
Japan Home
ToysLand
Love Link Jewellery
Anytime Fitness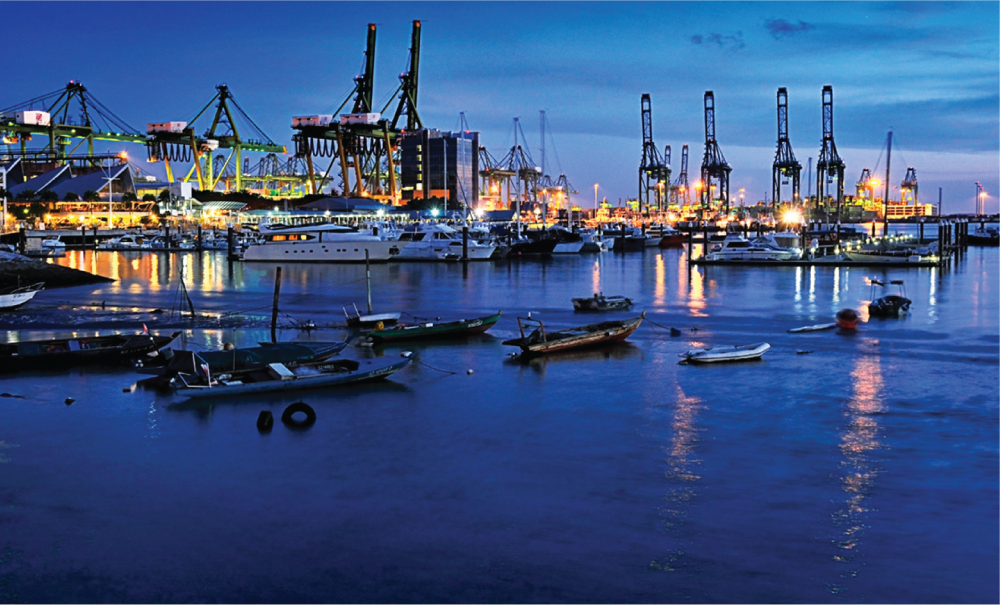 History of West Coast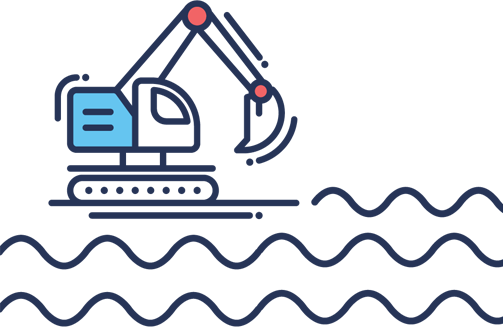 Created in the 1970s, West Coast was created out of reclaimed land. The east became a recreational area but the west became a mostly industrial area. The western part of West Coast is largely industrial but the eastern and central parts of the area are mostly filled with private housing along with single HDB estates. The West Coast area is well connected, with West Coast Road and West Coast Highway as main roads. Along the northern boundary of Clementi West, Ayer Rajah Expressway is located.
The name Clementi was derived from 'Clementi Road' which serves the main road that leads into the area. Previously, it was named 'Reformatory Road'. Due to Boys' homes situated in the area. In 1947, the Singapore Rural Board decided to reconsider the road name, and was named Clementi since then. Clementi was said to be named after Sir Cecil Clementi Smith, who was theVirst British High Commissioner in the Straits Settlements. Clementi has both an MRT station as well as a bus interchange.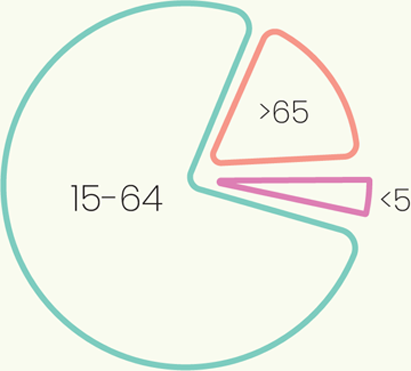 Population Age
There are about 92,420 residents living in the Clementi area. About 15-20% of the residents in Clementi are aged 65 and above. There is less than 5% of children less than 5 living in Clementi. There are roughly 61,500 people living in Clementi that are from the age ranges of 15 - 64.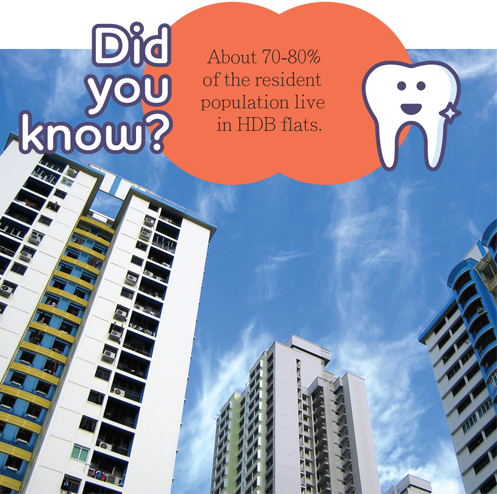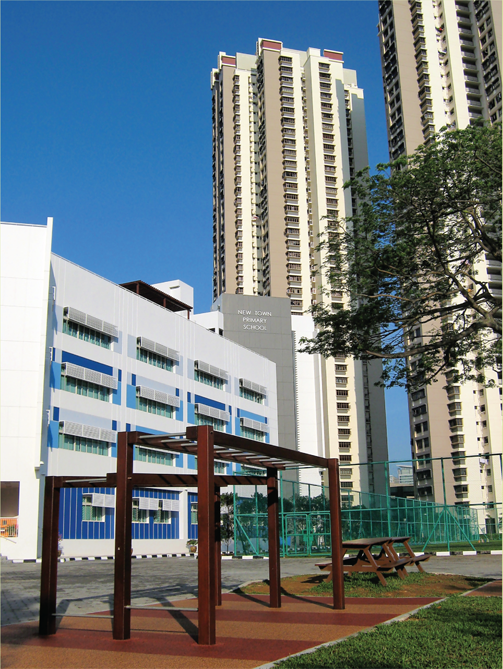 Due to a large population of international citizens living in the west coast area, hence there were 3 international schools set up, including the Japanese Secondary School, Waseda Shibuya Senior High School and International Community School.
There are currently 4 local primary schools, 5 Secondary schools and 2 independent schools. Ngee Ann Polytechnic, SIM Headquarters, Singapore University of Social Sciences and the National University of Singapore (NUS) are situated nearby or along the borders of Clementi Road.